External Rendering & Wall Insulation
EWI can greatly reduce the amount of heat lost through your walls. Of the UK housing stock, over 30% have been built with soild walls. These have been classed as 'hard-to-treat', because they cannot be thermally improved with the use of cavity wall insulation. Unlike unfilled cavity wall homes, which lose approximately 30% of heat through their walls, solid wall homes will lose as much as 45% of space heat through untreated walls.
Why Insulate Externally
As well as improving efficiency, Posh Rendering's EWI systems can revitalise the appearance of any property, whilst increasing its market value. We also use the latest exterior rendering techniques, and we can guarantee a high quality finish.
If you own a house without a cavity in the walls, improving its thermal performance means insulating either internally or externally. External wall insulation has the following advantages:
Thicker or higher performing insulation can be used resulting in warmer walls.
No internal living space is lost as all the insulation is on the outside walls.
No need to vacate while the work takes place, so no need to move furniture and fittings.
No internal redecoration is required, particularly kitchens and bathrooms.
The risk of condensation and cold-bridging is eliminated, as the whole building is wrapped in insulation.
An exterior finish is developed, which can closely match the original or surrounding properties.
Order of Works
Posh Rendering will prepare the surface for our insulation system, applying fungicidal wash to ensure surfaces are clean and ready for application of our system.
We then install insulation boards (complete with associated trims which are applied to external wall areas).
A base coat of render is then applied on top of the insulation boards. This includes reinforcement mesh - this then has to be left to dry. (Typically 2-3 days).
Once the base coat render is dry we apply a suitable decorative finish render, this can be; acrylic, silicone, or scratch finish. (This again requires 2-3 days drying time).
Thin Coat Renders
More often than not, thin-coat acrylic and silicone renders are applied on to external wall insulation systems. They are also suited very well to refurbishment projects where substrate cracking has been an issue in the past, coupled with a base coat and full mesh acrylic and silicone renders out perform any other system as they have "self-cleaning" abilities.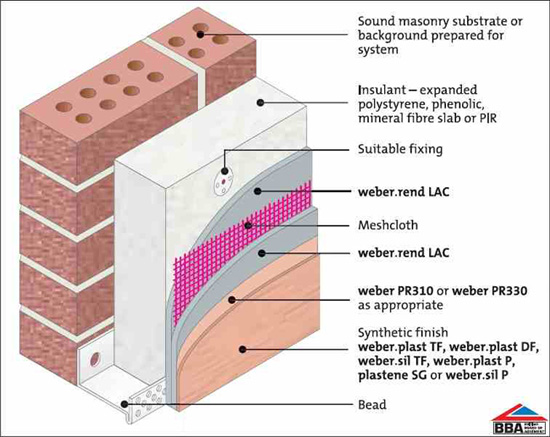 We serve all locations in Essex. These includes Romford, Brentwood, Chelmsford, Southend, Colchester, and all other towns in Essex. We also cover most parts of London, Kent, Surrey, Sussex and Hertfordshire.
Reasons to call us
High Quality Finishes
Low Cost Pricing
Fast Project Turnarounds
Water Repellent Surfaces
Lower Required Maintenance
10 Year Guarantees